Showering
ArjoHuntleigh shower equipment helps reduce the risk of injuries caused while showering, improves efficiency of the showering process and increases comfort and dignity for the resident/patient.
Carendo
A truly ergonomic multipurpose hygiene chair. A multipurpose hygiene chair for more dependent residents/patients. Reduces static load and saves time for the caregiver and makes the hygiene routines safer, more comfortable and dignified for the resident/patient.
Carmina
Bariatric shower commode chair
Designed specifically for assisted hygiene routines, showering and toileting for bariatric residents/patients.
The transfer-friendly design offers a safe solution for residents/patients with different mobility levels. Two models are available, covering needs ranging from a bedside commode to a mobile, multifunction shower and commode chair.
Enhancing lives.
Carmina™ has been developed to enhance quality of life, by providing a better alternative for hygiene routines in terms of safety and comfort.
For additional product portfolio and details for Showering, please visit
Additional Products & Details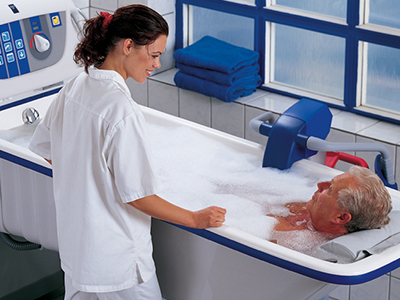 Bathing
ArjoHuntleigh bathing systems make bathing accessible for all residents/patients. These comprehensive, integrated solutions, for transportation, transfer and bathing, are designed for specific resident/patient mobility levels and provide ergonomic conditions for carergivers.
Rhapsody
Customized solutions for the entire bathing cycle
Rhapsody is not only height adjustable, but also highly adaptable. Our bathing systems are designed for flexibility and are compatible with a range of transport and lifting aids that cover all resident mobility levels.
Depending on your choice of mobile lift, there are three bath lengths to choose from: the shorter bath for more mobile residents/patients, and the longer bath for dependent residents/patients.
A complete system enables one carer to safely manage the entire bathing cycle.
Bath features can be combined to create systems that suit the specific needs of your facility's patients, for example can therapy options like Hydrosound™, Hydromassage™ and Sound & Vision™ be added.
For additional product portfolio and details for Bathing, please visit
Additional Products & Details
Burns Treatment
Water can have a cooling effect on burns, or a warming effect on stiff joints and sore muscles. Stainless steel baths safeguard against bacterial growth inside and outside the bath - from easy-to-clean surfaces to internal pipes and pumps
Primo Ferro
The Primo Ferro® is a height-adjustable bathing system designed to meet specialized needs for gentle resident/patient handling. It is particularly suitable for care facilities involved in the treatment of burns injuries or chronic skin conditions.
The Primo Ferro can assist in the specialist care of residents/patients of all mobility levels. Specialist care can be provided in an ergonomically-sound working environment that involves no manual lifting.
The system has high flexibility and features can be customized to the specific needs of your facility. There is a wide range of control, comfort and safety options that are very relevant parameters in the specialized treatment, such as digital temperature control, triple scalding protection, automatic disinfection system and auto fill.
Primo Ferro has a polished, high-finish, acid-resistent stainless steel tank. Stainless steel is a high-quality material, uniquely suited to the exacting demands for chemical-resistance and ease of disinfection for burn and therapy treatment facilities.
The complete Primo Ferro concept includes integration with the Alenti®, Miranti™, Bolero™ and Calypso™ mobile lifting aids, to cover all resident/patient mobility levels.
For additional product portfolio and details for Burns Treatment, please visit
Additional Products & Details